In Memory
Joseph McCloskey (Faculty)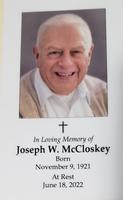 Joseph W. McCloskey, of Evanston, IL, and Philadelphia, PA, died peacefully at his home in Evanston on Saturday, June 18, 2022, at the age of 100-plus. He led a wonderful life, marked by dedication to high ideals and a delight in new experiences. He had been the last living crew member in the 23rd Squadron of the 5th bomb group, which carried out 46 missions during World War II.
He taught English literature and composition in two highly regarded high schools, Central High in Philadelphia and New Trier High School in Winnetka, IL, where his love of life, his quick wit and humor, his capacity to tell dramatic, true stories to engender better understanding of the literature studied and yet to teach the highest standards of written English earned him "Superstar" status among his students.
His profound insight into and sympathy for teenagers resulted in their staying in touch with him even 60 to 70 years after they left high school.
https://www.legacy.com/us/obituaries/chicagotribune/name/joseph-mccloskey-obituary?id=35291936